Puppy owners Testimonials
Over the years we have had lots of families come to Rougle Park and have experienced the joy of becoming a new mum, dad, brother or sister. Below are a few kind words that have been sent on from these famlies that are totally in love with there new member of the family & wish to share there thoughts & experience with you about there puppy & us at Rougle Park.
If you are one of our puppy owners & wish to ad your two cents please feel free to send us an email & I will post it here.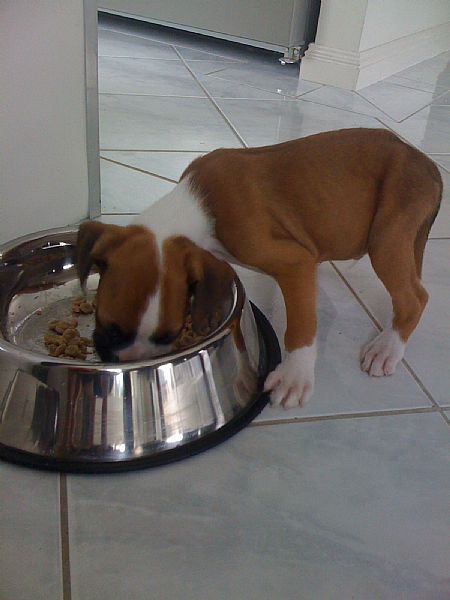 (I had to put this on here, even though he has just go home the photo cracked me up:)
Hi Liz/Gary
The little one is home safely he was great all the way just slept.

Once he got home and inside he did two poo's and a wee, so he was good not to do it in the car.
He ate most off his food and has been fine, he hasn't left our sides
He has also been playing with the toys we got him. He is great. Fits right in
Thank you and it was nice meeting you both
Good luck with the year ahead
Kind regards
Mellisa and Tim
Ps. he now has a smaller bowl haha (photo above)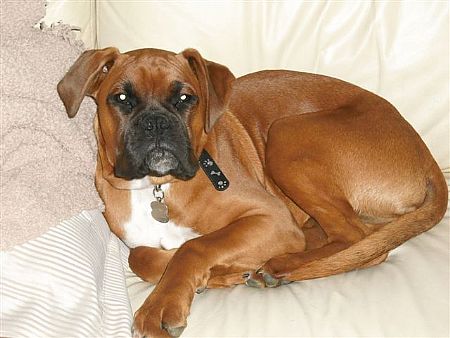 Jake the boxer
Hi Liz,
Jake is doing great. He is such a funny little character and such a little man. He is pretty well behaved but tends to have some "puppy moments" generally after a good nap... He is happy and seems to have made himself quite at home.
I have attached some updated photos. The ones on the lounge are from yesterday when he was sleeping in the afternoon (he is a but grumpy in the last one because I woke him up) and the ones outside are from a couple of weeks ago.
Enjoy and I hope you are well.
Kind Regards,
Alanna Nixon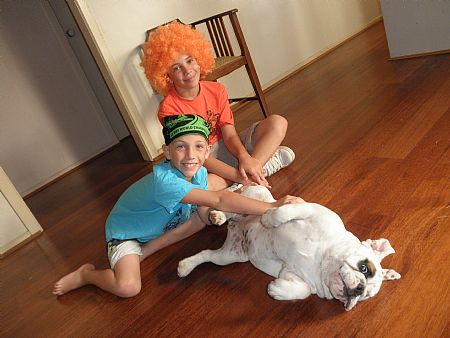 Lacey the bulldog
Hi Liz,
Lacey is fantastic, everyone loves her - she still goes to my in laws during work (puppy day care). Take her waking everyday & she loves going to BMX racing with us. real part of the family.
We travel alot & she goes everywhere with us.
She recently came on heat. Will be getting her desexed in the next 2 weeks.
Absolutely love her, she is the best dog ever.
Just like having a toddler around.
I have attached some photo's.
Thanks for the email, glad to hear from you
Jackie Lees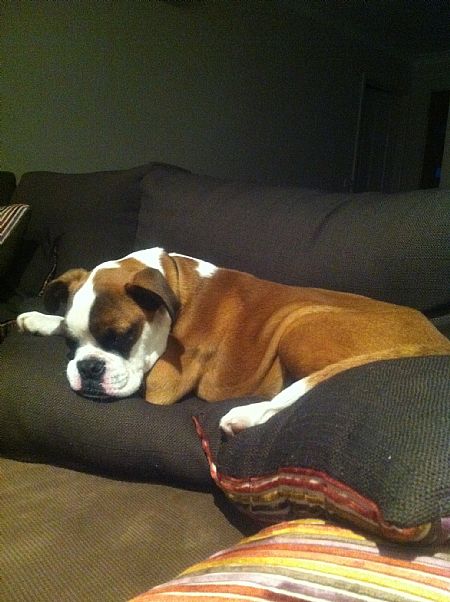 Tyson the Boxer
Just thought I would let you know how Tyson is travelling along!
He is the most amazing puppy we couldn't of asked for a better pet! He is on his way with training, sitting, dropping waiting and shaking!
He is a little spoilt but it was bound to happen!
Thank you so much for everything and I am sure we will be in touch as we definitely would like another pup a bit down the track.
Alice J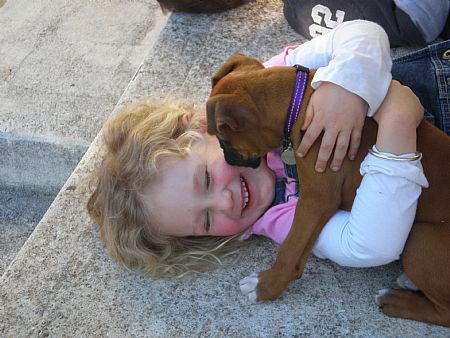 Rozie the Boxer
We brought a beautiful little female boxer "Rozie" from Liz at Rougle Park in late 2007, the whole experience was fantastic. Rozie is now a beautiful, very well behaved little dog with a great temperament, beautiful persionality and big heart, she loves all other dogs, people & especially kids!
She is very special & truly one of our family & we can't wait till our little boy is old enough to play with her, we're sure they will be best of friends.
We will deffinatly get another boxer next time & will deffinatly get one from Liz!
Mark & Bethany Fahey
Adelaide, SA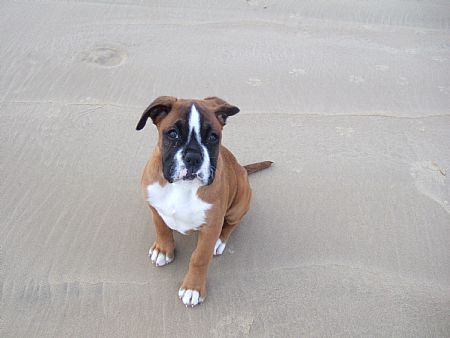 Rex the Boxer
Rex is the fifth boxer to join our family and he shares the house with his boxer girlfriend Pipi who is 4 years old.
We brought Rex from Liz at Rougle Park & like all good breeders she checked us out carefully to make sure Rex was going to a loving home.
Liz arranged transport for us as we live in NSW and she had a professional dog transported to do the job at a very resionable cost. Rex arrived as a very healthy puppy who was obviousally well socialised and right from day one he was part of the gang. Our old boxer Max was still alive at the time & the three of them got on really well together.
Rex has had no health problems, loves his tucker & has a great temperament. He loves to go to the beach & for car rides & is the best dog to walk on the lead yet as he doesn't pull like most boxers! Rex is very affectionate and loves his cuddles & is great with kids and people in general. He is just getting into the protective stage and keeps a good lookout for the house without any nuisance barking. I would have no hesitation in recommending Rougle Park dogs to anyone who wants a quality well bred dog with a good temperament.
James Sakker
NSW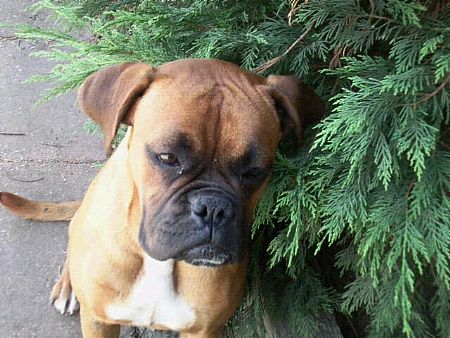 Sophie the Boxer
We brought our little girl in Feb 2008, she was the only girl in a little of three pups. We called her Sophie, but we call her princess Sophie as she really does walk around like she owns the place. From day one she was never afraid to "bash up" our big great dane x staffy, very cute!! We could not have asked for a better dog.
We would deffinatly purchase another boxer from Rougle Park again & recommend you to everyone I know.
Melanie Spokes
Vic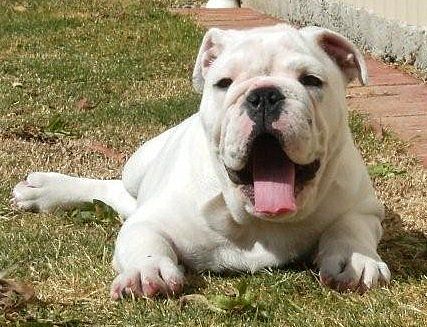 Busta the British Bulldog
We brought a puppy bulldog from Liz & Gary this year (2008) & at present time he is about 5 months old and whilst spoilt is a real bundle of Joy. He has just topped the 20 kg mark.
Throughout the process of getting a puppy Liz & Gary were very helpful and provided us with all the information we needed. Once we had the puppy we found ourselves well enough informed to bring him up to where he is now. I'm just about to take him off three meals a day and drop him back to two. I'm sure he won't be impressed but he really has some personality. He has just learnt to bark & is very protective of the house, but would more than likely lick someone to death whilst we were home. He has completed puppy pre school (couldn't recommend this highly enough) and started obidence training. He socialises well with other dogs and does not have a bad bone in his body. Infact if another dogs gets cross or upset he just sees it as part of the game. He can be quite mischevious when he wants and his favorite game is to pick things up he is not alloud to have (eg. gumnuts) and makes you chase him around to get it off him. He enjoys his walks but not to long and always in the cool. He travels well in the car. To top it all off he was toilet trained totally by about the 4 1/2 month mark. He just walks to the door & lets us know when he wants to go out.
The only thing to take note of is the heat. Even on some mildly warm days say high 20's you can see it affect him. He now has a shaded pen in the back yard for when we are at work. This seems to keep him cool enough although I think it will need a sprinkler system for when the real heat comes.
All in all it has been a through pleassure dealing with Liz & Gary and we are now the proud & happy owners of a beautiful natured & mischevious British Bulldog.
Regards Deidre & John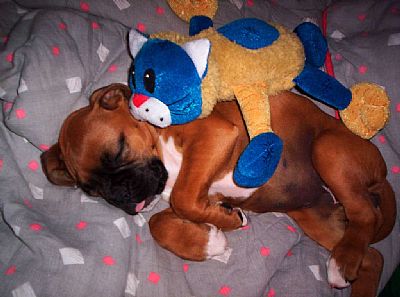 Monk the Boxer
From day one Monk just fit in, she only took a couple of days to house train.....so easy!
She is cuddly, playful, funny & smart.
Everyone comments on how friendly & social she is.
Monk is a very pretty and the boxer obidence class love her as she is so easy to train!
She loves our other dog and now we are all a tight little pack.
I wouldn't swap her for a million bucks!
Thanks Peta & Monk.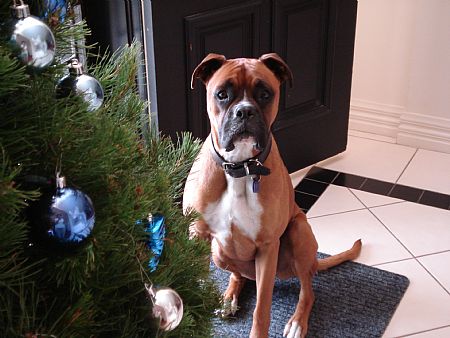 Gus the boxer
My Husband brought Gus from you back in 2007- From Ballarat born the 5th Feb 2007.
Gus is such a georgeous boy, he is loved to death, he has the run of everyone & everything. Gus has brough so much fun & happiness to our family, he is a real character & loves to be with us all the time.
Have a great X-mas, thought you might like to see him all grown up.
All the Best
Diane
Ballarat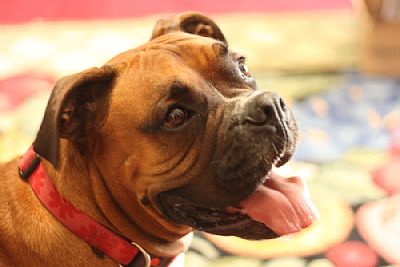 Lional the boxer.
Hi there Liz and Gary.

We bought Lionel in Feb 2007, we think he may be gus's brother. Lionels parents
were Mini and Mac.
Lionel loves to clown around, he loves his walks and is the first in the
car for sunday drives, we also take him on holidays. He only barks when there
is a need to.
Lionel is so affectionate, loyal, loving and not to mention handsome. Even
our cat loves him.
Our boxer boy is a real ladies man.

Thanks Fabienne & Graham.
Mature dogs.
We also from time to time rerhome mature dogs that we have for many different reasons from resuce dogs, dogs retired from breedig/showing or that we have gotten back from a past buyer.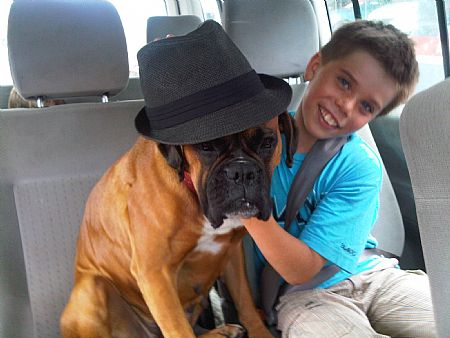 Paris the boxer.
Well its now been a year since Paris joined our family, and I thought I would send you some quick snaps of her a year on.

She has become a bit of a matriarch amongst our dogs at home with the addition of another Boxer puppy in January.

Paris alternates between a boxer version of the dog in Peter Pan called Nanny, a playful puppy and a mummy dog who keeps the puppy in line. It's been great.
We sent Paris and Alice (our boxer pup) off to a two week obedience training course which was just amazing and now Paris is outperforming other dogs at the park.
Her favourite things to do is lounge around on the lounge or in front of the heater, go for runs and walks with us on foot or on our bikes, swim, cool off in the bathing pool we set up for her in the yard, play with the kids, and play nonstop with Alice.
She has her favourite toy which is a little squeaky tweety bird, that she gets a bit fixated on, but it is pretty funny to see her carry it around everywhere.
We just love her, and even though we have only had her for a year, we feel like she has been a member of the family forever.
Thank you again for such a beautiful dog.
KylieAnn
Cooper the British Bulldog
Thanks Liz for providing such a wonderful addition to our family. Cooper is such a clown during the day, entertaining us with his energy, crazy behaviour and adorable expressions. And at bedtime he becomes a big sook, snuggling up to me for warm cuddles. He is everything we were told a bulldog would be – he snores, he farts, he's stubborn and he's mischievous - and we love him for it!
Thanks for your advice along the way and your prompt replies to all my emails.
I'm working on hubby to get Cooper a little sister in the future, and will definitely be keeping watch of your future litters and adult dogs.
Love, Michelle
*All photo's & contense are property of Rougle park & may not be copied or redistributed in any way.